This is one of my favorite views of San Diego. Halfway between Del Mar and the Torrey Pines State Reserve, where Highway 101 passes over the railroad tracks, we have this sweeping panoramic view of the coastal lagoon and the Pacific Ocean. While this painting was done in my studio, I like painting outside and Torrey Pines Beach is one of the local places where I enjoy doing so.
Click to see other paintings of Torrey Pines Beach: Torrey Pines State Beach VI, San Diego 100 (#45), San Diego 100 (#29)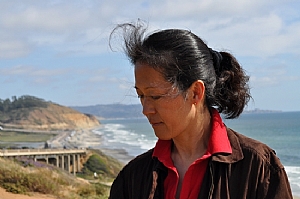 painting en plein air near the Torrey Pines Beach
Torrey Pines Beach, San Diego VIII

Click here for an enlarged view.
Media: Original watercolor on paper
Image Size: 10.25 x 28.75 inches (26 x 73 cm)
Mat/Frame: No
Purchase: Available through Gallery. Please send me an email for more information.