« Santa Margherita Ligure, Italy III, Italian Landscape Painting | Main | Nice, France VI, French Landscape Painting »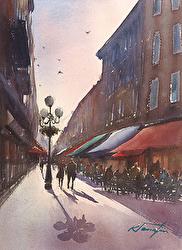 Nice, France V
Light can be gentle, dangerous, dreamlike, bare, living, dead, misty, clear, hot, dark, violet, springlike, falling, straight, sensual, limited, poisonous, calm and soft (Sven Nykvist).

When I paint into the light, I think of first what kind of light I am trying to paint. Here in Nice, on the southeast coast of France, mid-day light can be very unrelenting to the point of being painful sometimes. Light brings out colors more vividly but when it's intense, the strong contrast between light and shadow areas seems to look almost black and white. With that in mind, I used a wide range of darks in all shaded areas in this painting to portray a sun-drenched street.
Nice, France V

Media: Original watercolor on paper
Image Size: 11.5 x 8.25inches (29 x 21 cm)
Mat/Frame: No
Purchase: Sold
Topics:
Cafés & Restaurants
|
French Landscapes
|
How I Paint
|
Poems/Quotes
|
Sold Works
---
---
Comments
2 Responses to Nice, France V, French Landscape Painting
Rhonda
via ktanabefineart.com52 months ago
I'm glad I clicked on this to enlarge it and got to see the real beauty of this one in the rhythm of the russet reds throughout. When I see your work, I don't know whether to be inspired or just envious! Maybe a bit of both :)
Keiko Tanabe
via ktanabefineart.com52 months ago
Hi Rhonda, thank you for taking a moment for a closer look at this painting. As always, I appreciate and value your comment. After painting wintry/snowy scenes for some time, I craved for some colors... Glad you liked this one. Last but not least, happy birthday to you!!
* indicates a required field