Saint Nicholas Church in the first painting and the Belfry in the second painting are both famous landmarks of Ghent for their architectural beauty and historical significance.
Soaring over the medieval skyline of the city of Ghent, the Belfry has served for centuries as a bell tower as well as a fortified watch tower. It looks just magnificent. No wonder it is designated as a UNESCO World Heritage Site (inscribed as the Belfries of Belgium and France).
The nearby Saint Nicholas church looks equally impressive. The town bells were placed in the church's central tower before the belfry was built in the 14th century.
Till the bell of Ghent responded o'er lagoon and dike of sand,
"I am Roland! I am Roland! there is victory in the land!" by Henry Wadsworth Longfellow (1807-1882)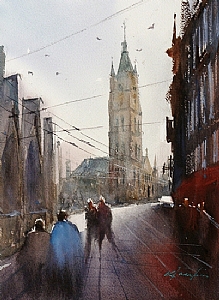 Ghent, Belgium II
Ghent, Belgium I
Click here for an enlarged view.
Media: Original watercolor on paper
Image Size: 8.25 x 11.5 inches (21 x 29 cm)
Mat/Frame: No
Purchase: Sold
Ghent, Belgium II
Media: Original watercolor on paper
Image Size: 8.25 x 11.5 inches (21 x 29 cm)
Mat/Frame: No
Purchase: Sold