« Namur, Belgium I & II, Belgian Landscape Paintings | Main | 50 Blogs Recommended for Watercolor Artists »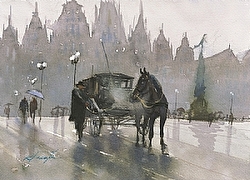 Antwerp, Belgium I
The Town Square of Antwerp is really an impressive place as it's surrounded by handsome tall buildings with beautiful architectural features. These are guild houses. Each has a distinct character but all are richly decorated and covered with windows in front. Then there are the City Hall, the fountain, pubs, shops, and needless to say, people who come here to walk, drink and eat, or just relax. The place has all the charms that would make any painter of city scenes want to try his hand at capturing a moment.
My idea for this painting was not to depict all kinds of activities and elements in this complex scene which could have told perhaps too many stories. Instead I wanted to convey the mood of the place by choosing just one story. For that, I focused on one element (a horse carriage waiting for riders) that I saw on the sidewalk, and simplified everything else to the point they were just abstract shapes. Can you hear the driver saying to his horse, "So, looks like the chilly rain has kept people indoors today"?
Antwerp, Belgium I

Click here for an enlarged view.
Media: Original watercolor on paper
Image Size: 8.25 x 11.5 inches (21 x 29 cm)
Mat/Frame: No
Purchase: Sold
Topics:
Belgian Landscapes
|
Horses
|
Painting Tips
|
Sold Works
---
---
Comments
7 Responses to Antwerp, Belgium I, Belgian Landscape Painting
Cheryl
via ktanabe.fineartstudioonline.com54 months ago
What a beautiful scene, Keiko. You've portrayed it masterfully. I showed my husband this one and he commented that the subject of your paintings really shine by the way you use gray and use less detail on other things in the scene. I was so surprised that he could see that and had him read your comments of exactly the same thought process about your approach to this one. I didn't realize that my husband is such an astute observer of art!