« Siena, Italy VIII, Italian Landscape Painting | Main | San Gimignano, Italy III, Italian Landscape Painting »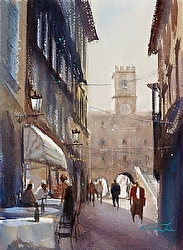 Cortona, Italy V
"As travel pushes me forward, memory keeps dragging me backward." - Frances Mayes.
When I think of autumn in Tuscany, the first memory that comes back to me is not a sight but a taste, from many years ago: It was well past lunchtime when I finally found a tiny family-run restaurant in the remote countryside. Inside was quite simple - no tourists but a few local people chatting together. I was feeling a little out of place and not sure what to order, but apparently that was not a concern for a madam who seated me. She said something rapidly in Italian, with "Va bene?" (Is it all right?) at the end. And she disappeared into a kitchen.
There I was waiting... and waiting for quite a long time, wondering if I had ordered anything at all. At last, she came out with a generous portion of warm risotto with porcini mushroom. Risotto does take a long time to cook, and she must have made it from scratch for me. Her smile and the creamy risotto with the earthy flavor of this autumn delicacy of Tuscany gave me a big smile, too.
Here's recipe of a similar dish (courtesy of Food Network). Buon appetito!
Cortona, Italy V

Click here for an enlarged view.
Media: Original watercolor on paper
Image Size: 11.5 x 8.25 inches (29 x 21 cm)
Mat/Frame: No
Purchase: Sold


Click here to see more paintings in my Italian Landscapes Collection.
Topics:
Cafés & Restaurants
|
Italian Landscapes
|
Poems/Quotes
|
Recipes
|
Sold Works
---
---
Comments
7 Responses to Cortona, Italy V, Italian Landscape Painting
Patty Schwarz
via ktanabefineart.com53 months ago
Keiko,

After reading Frances Mayes' book "Under The Tuscan Sun", we decided to come to Tuscany more than ten years ago. We had been to all the touristy places in Venice, Florence and Rome many time but her description of Tuscany drew us there and there we have stayed ever since. It's magical to wake up in the morning and not have an agenda, to roam as you please and make everlasting friends. It's just different than anybody could every imagine.

I think we are very lucky to have experienced this.
My very best wishes,
Patty