« More Paintings of Zhujiajiao, China | Main | Toledo, Spain VIII, Spanish Landscape Painting »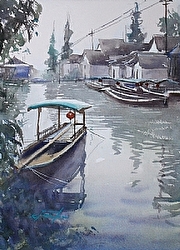 Zhujiajiao, China V
As I was painting this canal scene yesterday, quite coincidentally a big airmail package arrived from Zhujiajiao. It was from the International Watercolour Biennial Exhibition Office, and I knew immediately there was something inside that I was waiting for for months. A beautiful album, containing images of the paintings that are currently hung in the Inaugural Shanghai Zhujiajiao International Watercolour Biennial Exhibition, is finally here, courtesy of the exhibition organizers.

A 28.6 x 28.6 cm (11.25 in) softcover book with front and back flaps and perfect binding, features 244 paintings that were selected from 2,500 submissions, and is such a treasure to have I just couldn't put it down and looked through it over and over again. I was so delighted to see brilliant watercolors done by quite well-known artists and some of my personal friends. I was also entertained immensely by exquisite works of many Chinese artists whom I hadn't heard of before.

I think it is also worth mentioning that, this book being completely bilingual, all the names of the artists and their paintings were meticulously translated into Chinese. If you're one of the international artists in the book, it's interesting to see how your name is written in their language.

On the cover is a picture of the Fangsheng Bridge, an ancient stone bridge and the largest in the village. Yes, I was admiring a panoramic view from the top of it only a month ago, and all the memories of my visit there quickly came back (read related post)...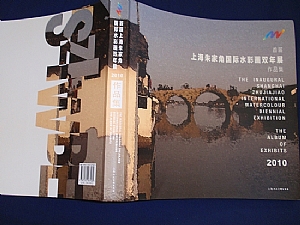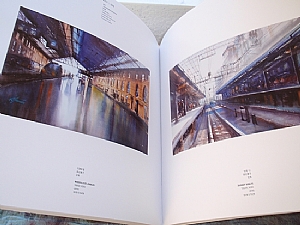 This 276-page catalog features all paintings selected for the exhibition, including
these two of mine (shown, right)


Click here to see more Chinese landscape paintings.


Zhujiajiao, China V

A larger image of this painting is available on request.
Media: Original watercolor on paper
Image Size: 8.25 x 11.5 inches (21 x 29 cm)
Mat/Frame: No
Purchase: Please send me an email for more information.
Topics:
Available 9x12
|
Available Works
|
Boats
|
Chinese Landscapes
|
Exhibitions
|
Waterscapes
---
---
Comments