Traveling south of Kyoto, we arrived in Nara prefecture located in the center of Kii Peninsula.
This is the height of tea leaf picking season, and we noticed pickers hard at work on the hillside. As tender light-green new leaves are ready, they meticulously and quickly pinch them off with one hand and throw them in a shallow basket held in another hand. A seemingly simple process but it is incredibly labor-intensive to do so for hours under the scorching summer sun.
New leaves of rice planted in the wet fields are growing taller rapidly, rural landscapes of Nara will look greener and greener every day from now through the end of summer.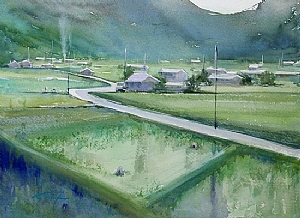 Nara Countryside, Japan II


Nara Countryside, Japan I

Click here for an enlarged view.
Media: Original watercolor on paper
Image Size: 11.5 x 8.25 inches (29 x 21 cm)
Mat/Frame: No
Purchase: Sold


Nara Countryside, Japan II

Media: Original watercolor on paper
Image Size: 8.25 x 11.5 inches (21 x 29 cm)
Mat/Frame: No
Purchase: Private Collection