« More Paintings of Canal Grande, Venice, Italy | Main | Asakusa, Tokyo, Japan I, Japanese Landscape Painting »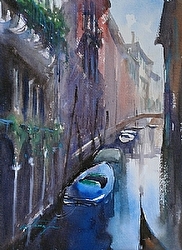 Venice Canal X (sold)
I am on the road again... I hope to post new paintings that I'll make at my destination, after unpacking, settling into a new time zone and feeling free of jet lag.

Just prior to my departure, I was working on a commission of a Venice painting. My client asked me to create a special piece for her dear friend who is finishing his studies in this canal city. While doing some research for the commission, I became so inspired to make several more paintings. I don't really know why... just to be in the right mood for the commission piece, maybe. Or I could say it was the magic of Venice. Some of them appeared in my last blog post, and here are two more of Venice Canal paintings.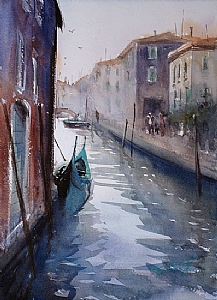 Venice Canal IX (available)


Venice Canal IX and X

A larger image of any of these paintings is available on request.
Media: Original watercolor on paper
Image Size: 11.5 x 8.25 inches (29 x 21 cm)
Mat/Frame: No
Purchase: Please send me an email for more information.
Topics:
Available 9x12
|
Available Works
|
Boats
|
Bridges
|
Italian Landscapes
|
Sold Works
|
Venice Italy
|
Waterscapes
---
---
Comments
3 Responses to Venice Canal Paintings
Mineke Reinders
via ktanabefineart.com58 months ago
They are both very beautiful, but I find the light in the second one especially captivating.