« Paris (#25) - Tour Montparnasse, French Landscape Painting | Main | Strasbourg, France I, French Landscape Painting »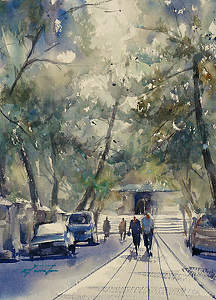 Gokonomiya Shrine, Kyoto, Japan I
Gokonomiya, shrine of fragrant water.

One thing we will want to bring when we visit this shrine is an empty bottle. In fact, on a stone path leading from the Main Gate to the inside of its precincts, we often see people carrying several of them.

The reason for this is gokosui, or fragrant water that has sprung up here, on and off, since 862. People come here from all over to take it home, believing it will cure illness and keep them healthy.
If water is too clear, it will not contain fish; people who are too cautious will never gain wisdom. -- Chinese proverb


Gokonomiya Shrine, Kyoto, Japan I

A larger image of this painting is available on request.
Media: Original watercolor on paper
Image Size: 11.5 x 8.25 in. (on 12 x 9 in. paper)
Mat/Frame: No
Purchase: Please send me an email for more information.
Topics:
Available 9x12
|
Available Works
|
Japanese Landscapes
|
Kyoto Japan
|
Poems/Quotes
---
---
Comments