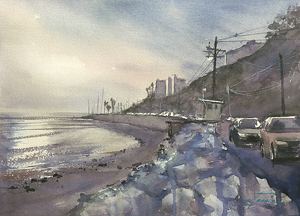 Pacific Coast Highway II
It it quite relaxing to watch subtle changes of colors of the sunset sky. Adding the soothing sound of waves makes the experience even more unforgettable.

Continuing a drive from Santa Monica toward Malibu along the Pacific Coast Highway, I couldn't help stopping at one of the beaches for that precious experience. And I'm glad I did.



Pacific Coast Highway II
Media: Original watercolor on paper
Image Size: 8.25 x 11.5 in. (on 9 x 12 in. paper)
Mat/Frame: No
Purchase: Please send me an email for more information.