« Paris (#7) - Gare du Nord, French Landscape Painting | Main | Pacific Coast Highway I, California Landscape Painting »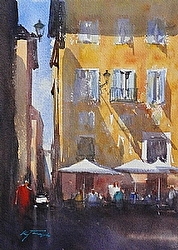 Roma, Italia XXVII
When I wanted to paint this scene, I was most attracted to how the lines were forming an interesting design already. Long, vertical lines of buildings on both sides of a narrow alley and diagonal lines of shadows cast on the incredibly bright yellow walls seemed to be melting into the dark shadows on the ground.

Then, there was a small outdoor café. When it's so hot it feels like roads are literally melting, there's no doubt in my mind that everyone will love granita di caffe (sweetened coffee slush) – con panna (topped with whipped cream), of course.
Roma, Italia XXVII
Click here for an enlarged view.
Media: Original watercolor on paper
Image Size: 11.5 x 8.25 in. (on 12 x 9 in. paper)
Mat/Frame: No
Purchase: Sold
Topics:
Cafés & Restaurants
|
Italian Landscapes
|
Recipes
|
Rome Italy
|
Sold Works
---
---
Comments
2 Responses to Roma, Italia XXVII, Italian Landscape Painting
Vicki
via ktanabefineart.com58 months ago
Your work is beautiful! I sat my brushes down over eight years ago to take up real estate. Now, while the market is slow my interest in painting is stiring.

How do you handle your "white" areas? Do you mask,scrape,or do you use some-other type of application paint other than watercolor?
Keiko Tanabe
via ktanabe.fineartstudioonline.com58 months ago
Thank you, Vicki, for leaving your kind comment. I feel your excitement as you've started painting again. I try to save the white of paper as much as I can, as in this painting. Masking and scraping are not my favorite methods; if I lose the white of paper, I may use white watercolor paint to add little highlights or thin lines, for example.
* indicates a required field