« Paris (#6) - Montmartre, French Landscape Painting | Main | Paris (#7) - Gare du Nord, French Landscape Painting »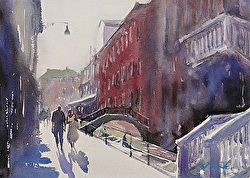 Venice Canal VIII
Could the couple walking toward me be honeymooners? The sun was blinding me so I couldn't tell but I had a feeling they probably were.

According to Modern Bride magazine, the five most popular honeymoon cities are Paris, Venice, Honolulu, San Francisco and Sydney. In other similar surveys as well, Venice is almost always one of the top travel destinations for honeymooners. It comes as no surprise because Venice is such a romantic city no other places can be easily a match.

For an ultimate honeymoon experience in Venice, how about taking the Simplon Orient Express luxury train from London all the way to Venice and staying at the splendid Hotel Cipriani? A one-way train ticket $3,120 per person (overnight). A suite (the cheapest) with a lagoon view $3,300 per night. (Sigh…) Venice can also be very expensive.



Venice Canal VIII
Media: Original watercolor on paper
Image Size: 8.25 x 11.5 in. (on 9 x 12 in. paper)
Mat/Frame: No
Purchase: Sold
Topics:
Boats
|
Bridges
|
Italian Landscapes
|
Sold Works
|
Venice Italy
---
---
Comments
2 Responses to Venice Canal VIII, Venice Italy Painting
Ramesh Jhawar
via ktanabefineart.com61 months ago
Lovely bright light and beautiful colors!! Wonderful work, Keiko! BTW I now prefer FB to see your work and comment. Its fast and easier :)
Keiko Tanabe
via ktanabefineart.com61 months ago
I always appreciate your comments here, Ramesh. It's also nice to connect with you and so many others on Facebook, but my blog is still the best place to see every daily painting I make, with all the details and information. :)
* indicates a required field