« Collioure Bar II, Interior Painting | Main | Portofino, Italy III, Italian Landscape Painting »
A sweeping view from the royal castle of Collioure shows a beautiful coast line of the Mediterranean Sea. Near the lighthouse (now part of a church) there is a harbor and a beach. Everything looks so peaceful as far as one can see from up here. But to think this castle looks more like a fortress, I had to imagine there must have been some rough times in the past.

Collioure, situated only a few kilometers from the eastern French-Spanish border, is in Pyrénées-Orientales, the region sometimes referred to as Northern Catalonia. People's pride in the Catalan culture can be felt in the names of restaurants and shops, at the sight of houses hanging a yellow-and-red Catalan flag, and hearing Catalan spoken on the streets.
Collioure, France I

Collioure, France I

Media: Original watercolor on paper
Image Size: 29 x 10.25 in. (74 x 26cm)
Mat/Frame: No
Purchase: Sold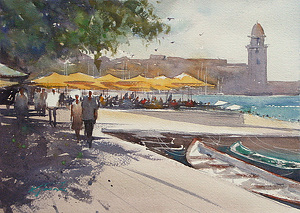 Collioure, France III

Collioure, France III

Media: Original watercolor on paper
Image Size: 8.25 x 11.5 in. (on 9 x 12 in. paper)
Mat/Frame: No
Purchase: Sold
Topics:
French Landscapes
|
Sold Works
|
Waterscapes
---
---
Comments
2 Responses to Collioure, France I & III, French Landscape Painting
Alice Thompson
via ktanabefineart.com62 months ago
Keiko, I found your work on the dailypainters website a few months back and your watercolors are refreshing to see. I'd like to invite you to have a look at a new monthly artist challenge that I've began on my blog. It is a good way for artist to come together to share, learn and support. You'll find the link in the upper right hand corner. I realize this month is almost over but you may like to join in sometime. Domo arigato, Alice
Keiko Tanabe
via ktanabe.fineartstudioonline.com62 months ago
Alice, your blog site may be of interest to other artists as well who may be reading this. Thank you for sharing!
* indicates a required field