« Amore, Italian Landscape Painting | Main | Roma, Italia XXV, Italian Landscape Painting »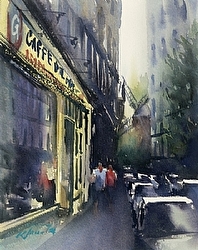 Paris Cafe XIV
I am re-posting this painting for Valentine's Day (Please click here to read more about this painting).

If you're in or near San Diego and still trying to plan how to spend this day with your sweetheart, here's an idea. Go to Fallbrook. If you both love art, this tiny art town will charm you. If you're both fans of watercolor paintings, that's even better.

Now through March 28, there's an extraordinary exhibition you never want to miss, World of Watercolor, being held at the Fallbrook Art Center. Believe it or not, this is National Watercolor Society's 89th Annual Travel Exhibition and Signature American Watercolor Exhibition, two big national-level shows taking place simultaneously. Plus, the exhibition is in a beautiful gallery with a chic café serving dishes with a Mediterranean flair. What a treat!


Paris Cafe XIV

Click here for an enlarged view.
Media: Original watercolor on paper
Image Size: 9.5 x 7.5 inches
Mat/Frame: Yes/No
Mat Size: 14 x 11 inches (color: off-white)
Purchase: Sold

Click here to see other paintings in my Paris Cafe Collection.
Topics:
Cafés & Restaurants
|
French Landscapes
|
Paris Café
|
Paris France
|
Sold Works
---
---
Comments
2 Responses to Love is in the Air
Josh
via ktanabefineart.com61 months ago
I'm a undergrad painting major who just happened to stumble upon your site. I just wanted to say I am really enjoying your paintings! It has inspired and motivated to work with watercolors now. =]
Keiko Tanabe
via ktanabe.fineartstudioonline.com61 months ago
Thank you, Josh, for your visit. It's nice to hear you liked my watercolors. Enjoy your college days! Wishing you all the best.
* indicates a required field