« San Marco II, Venice, Italy Painting | Main | Love is in the Air »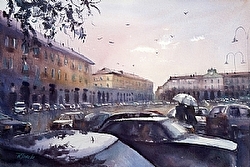 Amore
You are in love "when the moon hits your eye like a big pizza pie" or "when the stars make you drool just like a pasta fagiole." How about "when the world seems to shine like you've had too much wine" or "when you dance down the street with a cloud at your feet*"? Sì, that's amore!

Valentine's Day is just around the corner to celebrate all kinds of love we have for one another. This painting is not my recent creation but I thought it'd be perfect for a day for love (Click here to read a previous post about this painting). This scene happened a long, long time ago during my travel in Italy. But I still remember, as if it was a scene in a movie I watched many times, the atmosphere, the noise, the air... Every time the memory comes back to me, I can't help saying that's amore!

(* lyrics: That's Amore by Dean Martin)

Amore

Click here for an enlarged view.
Media: Original watercolor on paper
Image Size: 14 x 21 inches
Mat: Available on request
Purchase: Sold

Click here to see other paintings in my Italian Landscape Collection.
Topics:
Italian Landscapes
|
Poems/Quotes
|
Sold Works
---
---
Comments
2 Responses to Amore, Italian Landscape Painting
Don Gray
via ktanabefineart.com62 months ago
Superb, Keiko! The reflected bird on the car roof is a great touch.
Keiko Tanabe
via ktanabe.fineartstudioonline.com62 months ago
Don, thank you. I am delighted to hear your comment. That car roof is my favorite part of this painting, too.
* indicates a required field