« Venezia VIII, Venice Italy Painting | Main | San Marco II, Venice, Italy Painting »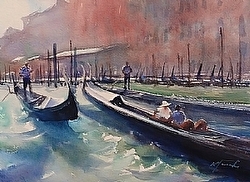 Venice Canal VII
Whenever I get an idea for a new painting, I become so excited and anxious I can't wait to put it down on a paper. So my drawing is pretty quick and simple. I draw, with a 4B or 6B pencil, all the main shapes and a few details, especially highlights where I want to preserve the white of a paper.

Then, I gaze at the paper in front of me for a moment, trying to visualize the painting I'd like to make happen. This is a small but very important step in my process because it makes me aware of the direction I will be focusing on. Am I still just as excited and determined as before about this painting idea? If I can honestly yes, I move on to the next step, painting. If I can't say yes, that's a red flag -- I need to ask myself why and find a remedy for it. Ignoring this red flag means I will most likely encounter many problems and end up spending more time problem-solving than painting happily and freely.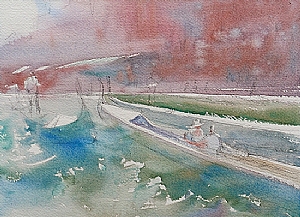 Two parts, buildings and the water, make up this painting. I try to establish colors and tones of all the main shapes as much as possible, using a variety of edges.


Time to put in more details, mainly using hard edges and lost-and-found edges here and there.


Finish.


Venece Canal VII
Click here for an enlarged view.
Media: Original watercolor on paper
Image Size: 8.25 x 11.5 in. (on 9 x 12 in. paper)
Mat/Frame: No
Purchase: Sold

Click here to see other paintings in my Venice Italy Collection.
Topics:
Boats
|
How I Paint
|
Italian Landscapes
|
Painting Tips
|
Sold Works
|
Venice Italy
|
Waterscapes
---
---
Comments
3 Responses to Venice Canal VII, Venice, Italy Painting
Keiko Tanabe
via ktanabe.fineartstudioonline.com62 months ago
Ramesh, Susie, thank you both for visiting my blog. I am glad that you enjoyed this post. I plan to show a step-by-step like this again, so I hope you'll come back and see it!