« Market Day V, Venice, Italy Painting | Main | Venice Canal VII, Venice, Italy Painting »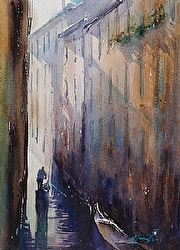 Venezia VIII
The moment I saw this lone gondolier disappear into the light, I realized I had been watching a silent play. I was the only person in the theater and the gondolier was a solo actor on this stage set in a narrow canal, away from where the crowd was.

Buildings on both sides were quite old and wall colors were faded and partially obscured by what naturally grew in the water. But at this moment, the high walls became colorful velvety veils. Thanks to a wonderful job of a lighting technician, light/dark effects created on the veils added a mysterious mood to the scene. How I wished there was a curtain call...

Venezia VIII
Click here for an enlarged view.
Media: Original watercolor on paper
Image Size: 11.5 x 8.25 in. (on 12 x 9 in. paper)
Mat/Frame: No
Purchase: Sold

Click here to see other paintings in my Venice Italy Collection.
Topics:
Boats
|
Italian Landscapes
|
Sold Works
|
Venice Italy
|
Waterscapes
---
---
Comments
2 Responses to Venezia VIII, Venice Italy Painting
Ramesh Jhawar
via ktanabefineart.com62 months ago
Hi Keiko!
I could very well feel the excitement that you felt! This is a beautiful painting.You know what...Whenever I see in my blog list that you've posted a venice painting, I visit immediately because I just love your venice paintings.
Keiko Tanabe
via ktanabe.fineartstudioonline.com62 months ago
Ramesh, I am honored whenever I get your attention. Thank you, as always, for sending me your kind words. Planning more Venice pieces... so stay tuned.
* indicates a required field