« Paris Café XLIX, French Landscape Painting | Main | Journey Home IX, Japanese Landscape Painting »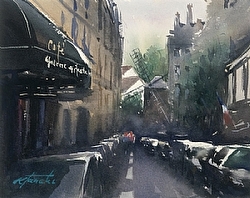 Paris Café XII (Montmartre)
How we connect with a new place we visit is just like a relationship. It may be a love at first sight (so we never leave) or we may leave disappointed (never to return). In most cases, we were already interested enough to visit, so naturally we enjoy 'our first date' and may want to return to get to know it better.

I love Paris. To think of my first visit there about 20 years ago, it was not a love at first sight (it was too short). But Paris already had a special place in my heart and my feelings for the City of Light have grown stronger and stronger after each following visit.

The Parisian café, one of the popular symbols of the city, has been my favorite painting subject in the last couple of years (click to see Paris Café paintings). But this year I am going to make another painting series of Paris. Stepping outside the café, I will capture quiet moments in backstreets. I will sit on a bench at a park and make a sketch. I will walk along the Seine, climb the Montmartre hill and paint views visitors from all over the world come to see... I have many ideas but I don't have a big mission to accomplish. This new series will be just a way to express my feelings - sort of like my love letters to Paris.


Paris Café XII

Click here for an enlarged view.
Media: Original watercolor on paper
Image Size: 7.5 x 9.5 in.
Mat/Frame: Yes/No
Mat Size: 11 x 14 in.
Purchase: Sold
Topics:
Cafés & Restaurants
|
French Landscapes
|
Paris Café
|
Paris France
|
Sold Works
---
---
Comments