« Sevilla Bar I & II, Interior Painting | Main | Yasaka Shrine, Kyoto II, Japanese Landscape Painting »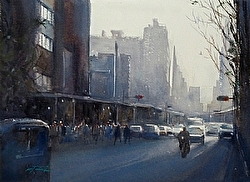 Downtown Kyoto, Japan X
A to-do list for the Japanese on the last day of the year is long. People usually spend an entire day cleaning thoroughly inside and outside their house, shopping and cooking for the next few days.

All the hard work is done as a group effort among family members, so everyone can wind down by the evening when they get together to enjoy a late-night meal, which is, traditionally, a bowl of buckwheat noodles.

And we wait for midnight when we begin to hear the bells ringing from temples from all over Japan.

Downtown Kyoto, Japan X

A larger image of this painting is available on request.
Media: Original watercolor on paper
Image Size: 8.25 x 11.5 in. (on 9 x 12 in. paper)
Mat/Frame: No
Purchase: Sold
Topics:
Japanese Landscapes
|
Kyoto Japan
|
Sold Works
---
---
Comments
2 Responses to Downtown Kyoto X, Japanese Landscape Painting
Werner Schätzle
via ktanabefineart.com64 months ago
Hallo Keiko,
ich wünsche Dir einen Guten Rutsch ins Neue Jahr.
Mach weiter so, ich bin immer begeistert wenn ich ein neues Aquarell von Dir sehe.

Liebe Grüße Werner
KeikoTanabe
via ktanabefineart.com64 months ago
It's always a pleasure to have you visit my blog. Thank you and a happy New Year to you, too!

* indicates a required field