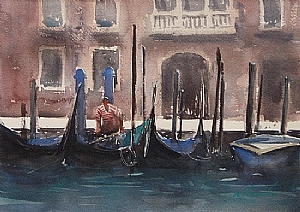 Gondolier, Venice VIII
Sous Le Ciel de Paris (Edit Piaf), On An Evening in Roma (Dean Martin)... Songs inspired by cities like Paris and Rome instantly transport me to streets in these charming places. They make me miss all the wonderful things I enjoyed there. Choosing music that puts me in the right mood for a particular painting is often very important in my studioWhat would be perfect for a piece of Venice? How about Dalida's Gondolier? ... Tu chantais / Pour lui et moi / Lui et moi / Tu te rappelles / Lui et moi / C'était écrit / Pour la vie / La vie si belle / Gondolier / Quand tu chantais ... (Lyrics: "Gondolier" by Dalida)
Gondolier, Venice, Italy VIII

A larger image of this painting is available on request.
Media: Original watercolor on paper
Image Size: 8.25 x 11.5 in. (on 9 x 12 in. paper)
Mat/Frame: No
Purchase: Please send me an email for more information.


Click here to see other paintings in my Venice Italy Collection.