« San Diego 100 (#94) - Barrio Logan, California Landscape Painting | Main | Gondolier, Venice VIII, Italian Landscape Painting »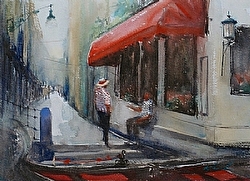 Two Gondoliers, Venice I
I don't know who designed it, but the gondolier's uniform makes them look good. They always wear black trousers and shoes. And they wear a polo or a T-shirt with stripes. I've seen two versions: red and white stripes or blue and white stripes. Sometimes they put on a straw hat with a ribbon in a matching color with a stripe.

In an old city like Venice where buildings and streets (and canals) look more weathered than starkly clean or bright, gondolier's dark-colored outfit from waist down often fades into the background. But it's the stripes of their shirt that sparkle. That's where I try to leave the white of the paper when I paint them in watercolor.

Two Gondoliers, Venice, Italy I

Click here for an enlarged view of this painting.
Media: Original watercolor on paper
Image Size: 8.25 x 11.5 in. (on 9 x 12 in. paper)
Mat/Frame: No
Purchase: Sold

Click here to see other paintings in my Venice Italy Collection.
Topics:
Boats
|
Bridges
|
Cafés & Restaurants
|
Italian Landscapes
|
Sold Works
|
Venice Italy
---
---
Comments
4 Responses to Two Gondoliers, Venice I, Italian Landscape Painting
Keiko Tanabe
via ktanabefineart.com65 months ago
Your kind comment is appreciated, Fabrizio! Thanks also for the link to your site. I enjoyed your unique style a lot.