« Paris Café XXX, French Landscape Painting | Main | Balboa Park December Nights III, California Landscape Painting »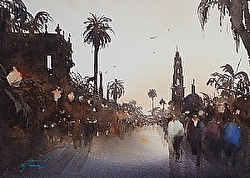 December Nights (SD100- 87)
"December Nights" has been a holiday tradition in San Diego for many years. On the first weekend in December, the largest community festival takes place in the historic Balboa Park.

Seen from the other end of the Promenade, the California Tower and other exquisite Spanish-Renaissance-style buildings, together with lush tropical plants and trees, all look silhouetted against the setting sun. That's when the lights start glowing in warm colors and the big party begins.

Like tens of thousands of people in San Diego, I look forward to this event to join in the communal holiday celebration.


San Diego 100 (#87) - December Nights (Balboa Park)
Click here for an enlarged view of this painting.
Media: Original watercolor on paper
Image Size: 8.25 x 11.5 in. (on 9 x 12 in. paper)
Mat/Frame: No
Purchase: Sold
Topics:
California Landscapes
|
San Diego 100 Project
|
Sold Works
---
---
Comments
2 Responses to San Diego 100 (#87) - December Nights (Balboa Park), California Landscape Painting
William E. Elston
via ktanabefineart.com52 months ago
I was intrigued by this Balboa Park painting, as I had painted almost the same view in 1986. An image of the painting is on my website, the url is http://www.elston.net/galleries/olderworks/index_7.html . The image is in the second row, column three.

- Bill Elston
Keiko Tanabe
via ktanabe.fineartstudioonline.com52 months ago
Hello, Bill. Thank you for visiting my blog and sharing a link to your site. I looked at your painting of the same spot in Balboa Park. This is such a beautiful place no wonder so many painters want to capture it!
* indicates a required field