« Trattoria, Venice, Italy III, Italian Landscape Painting | Main | Venice Reflections VIII, Italian Landscape Painting »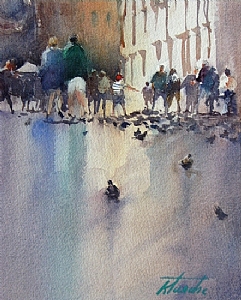 Piazza San Marco, Venice, Italy I
Because "only a lazy guidebook about Italy doesn't quote a sentence said once by Napoleon," chances are many visitors are already familiar with his quote: San Marco is Europe's most elegant drawing room (venice travel website). In general, I am not really interested in painting famous landmarks. Instead, I find myself attracted to more mundane scenes: smaller squares, backstreets, local markets, etc. where ordinary people live.

Standing in the middle of the San Marco Square among many other tourists and pigeons, and admiring the sights all around me, I indulged myself as a tourist. Because I didn't think I'd paint any of it, I was not really in a painter's mode. Otherwise, I would have been looking for an exciting perspective; I would have been seeing intriguing value patterns or negative shapes; I would have been trying to figure out what colors to use or mix for this building or that. But the mode shifted when I least expected it.

It had just stopped raining in Piazza San Marco. I dropped my folded umbrella, so I got down to the ground level to pick it up. And I saw this view, which put me in the painter's mode right away.


Piazza San Marco, Venice, Italy I

Media: Original watercolor on paper
Image Size: 9.5 x 7.5 in.
Mat/Frame: Yes/No
Mat Size: 14 x 11 in.
Purchase: Sold

Click here to see more Venice Italy paintings on my website.
Topics:
Italian Landscapes
|
Poems/Quotes
|
Sold Works
|
Venice Italy
---
---
Comments
5 Responses to Piazza San Marco, Venice, Italy I, Italian Landscape Painting
Rick Nilson
via ktanabefineart.com65 months ago
I was hoping to get that view of San Marco. The pigeons got in my way. I love your watercolors.