« Barcelona, Spain V, Spanish Landscape Painting | Main | Barcelona, Spain VII, Spanish Landscape Painting »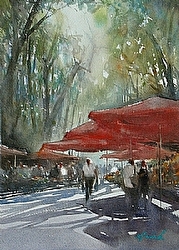 Barcelona, Spain VI
Here's another painting of Las Ramblas, the same street as the one I painted yesterday (click to view). The name originates from the Arabic ramla, meaning the sandy bed of a seasonal river. This tree-lined avenue in Barcelona has always attracted many visitors. Some may come here just to shop at an outdoor market.

Ever so popular, like any major sights in a big city, Las Ramblas is not immune from criticism from those who don't like it. They say it's too crowded, too touristy, and not safe. They say there's too much hype. Not too long ago, an article was written about a dark side of Las Ramblas in the Guardian (UK) (read full article here). As for me, I'm not in the position to say whether this type of negative response is true or not. All I see is a historic street where time flows like a river.

"Time is a sort of river of passing events, and strong is its current; no sooner is a thing brought to sight than it is swept by and another takes its place, and this too will be swept away." - Marcus Aurelius


Barcelona, Spain VI

Media: Original watercolor on paper
Image Size: 11.5 x 8.25 in. (on 12 x 9 in. paper)
Mat/Frame: No
Purchase: Sold
Topics:
Markets
|
Poems/Quotes
|
Sold Works
|
Spanish/Portuguese Landscapes
---
---
Comments
2 Responses to Barcelona, Spain VI, Spanish Lanscape Painting
Rick Nilson
via ktanabefineart.com66 months ago
I love what you do with these street scenes. I stayed a week on Las Ramblas. Ate breakfast every morning in market with all the parts of the pig except the squeal. Thanks for being out there painting and talking about it.
Keiko Tanabe
via ktanabefineart.com66 months ago
Thank you, Rick. I'm glad my Barcelona paintings brought back your happy travel memories. Welcome to DPG!
* indicates a required field