« Sorrento, Italy III, Italian Landscape Painting | Main | Procida, Italy VII, Italian Landscape Painting »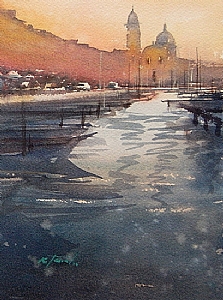 Procida, Italy VI
To me, selection of a subject matter is usually a one-shot approach. But when I am hopelessly taken with a particular scene, I paint it again and again. The first painting is naturally the most direct expression of my emotional response to it, but I feel I have more freedom in subsequent paintings as I get to know the subject better. So I play with designs, colors, forms, etc. Sometimes I even change the time of day or the weather with a little help of imagination (Read my related blog post Power of Imagination).

A sunset scene at a small harbor on an island called Procida is one of those that captivated me so much. See a coupe of paintings I did before this one: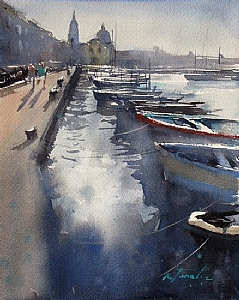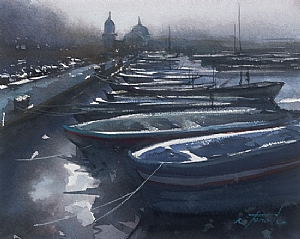 Procida, Italy VI

Media: Original watercolor on paper
Image Size: 7.5 x 5.5 in.
Purchase: Sold
Topics:
Boats
|
How I Paint
|
Italian Landscapes
|
Sold Works
|
Waterscapes
---
---
Comments
2 Responses to Procida, Italy VI, Italian Landscape Painting
Ramesh Jhawar
via ktanabefineart.com66 months ago
Hi Keiko! You have used your imagination very wonderfully! Very captivating painting!
Keiko Tanabe
via ktanabefineart.com66 months ago
Thank you, Ramesh. It's free so we might as well use it, no? ;) Have a great weekend!

* indicates a required field