« Marseille Harbor Cafe II, French Landscape Painting | Main | Albi's Native Son (French Landscape Painting) »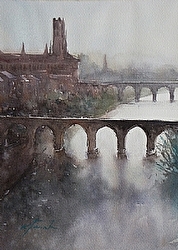 Albi, France IV
Albi is a picturesque town with unique history and rich cultural heritage. It stands by the river Tarn in the southwest of France near Toulouse. This painting shows the towering cathedral that looks almost like a fortress. Many buildings in Albi have reddish hues because of bricks used in the local architecture -- the reason the town is called Albi La Rouge.

Over the past years I have painted several times serene views of Albi's red buildings and bridges reflected on the river. One thing that draws me is its irresistible beauty, which is powerfully therapeutic as well. I can feel I calm down instantly when I paint it.


Albi, France IV

Click here for a larger view of this painting.

Media: Original watercolor on paper
Image Size: 11.5 x 8.25 in. (on 12 x 9 in. paper)
Purchase: Sold


Albi, France I

Albi, France I

Media: Original watercolor on paper
Image Size: 10 x 27 in.
Purchase: Please send me an email for availability.
Topics:
Available - Odd size
|
Available Works
|
Boats
|
Bridges
|
French Landscapes
|
Sold Works
|
Waterscapes
---
---
Comments
2 Responses to Albi La Rouge (French Landscape Painting)
JJ
via ktanabefineart.com52 months ago
Your work is very inspiring. I loved my short visit to France. I found the country to be very romantic, and your works convey that too.

Cheers JJ
Keiko Tanabe
via ktanabe.fineartstudioonline.com52 months ago
Hi JJ, thank you for your kind comment. I must say I agree with you and that is one of the reasons I keep returning to this fascinating country.
* indicates a required field