« San Diego 100 (#65) - Lake Miramar, California Landscape Painting | Main | San Diego 100 (#66) - Liberty Station, California Landscape Painting »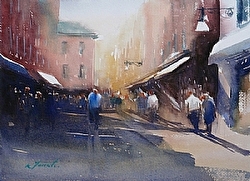 Venice Twilight I
What attracts many landscape artists must be, first and foremost, the light in a scenery. Dealing with all kinds of light conditions to paint requires a certain level of skill to make it work in a painting. But that is something we all have to do and also greatly benefit from for our artistic growth.

Brief moments before and after sunset are really magical. I think we are all moved to see last rays of direct sunlight or those reflected by the upper atmosphere onto the land's surface. But it is interesting that our emotional reaction to it really varies, depending on our state of mind, the setting or location, the season, whether we are alone or in somebody else's company, etc.

This painting is my emotional response to the twilight in Venice on a particular day. So if I paint another on the theme, it'll never be the same. Another time, another interpretation.

Here's Claude Monet's "Venice Twilight."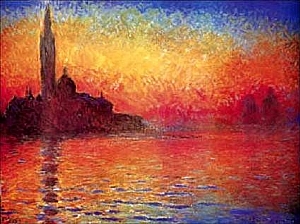 Venice Twilight I

Click here for a larger view of this painting.

Media: Original watercolor on paper
Image Size: 8.25 x 11.5 in. (on 9 x 12 in. paper)
Purchase: Sold
Topics:
Italian Landscapes
|
My Favorite Subjects
|
Sold Works
|
Venice Italy
---
---
Comments
2 Responses to Venice Twilight I, Italian Landscape Painting
Ramesh Jhawar
via ktanabefineart.com67 months ago
What you have said is absolutely true!It is the light which attracts the artist.I like this painting!Please check my latest post where I have emphasized the play of light and shadow!
http://rameshjhawar.blogspot.com/2009/08/turquoise-dress.html
Keiko Tanabe
via ktanabefineart.com67 months ago
Hi Ramesh, thank you for your speedy feedback. Yes, your latest painting is absolutely gorgeous. Congratulations!

* indicates a required field