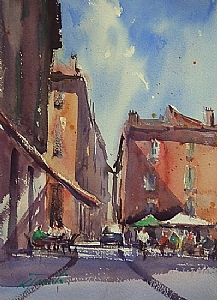 Brioude marché, France II
This painting is another demonstration I did last weekend of the weekly outdoor market in Brioude, France (click here to see the other one). Lively streetscapes such as this are a delight to paint!

During the two-week exhibition at the Brioude Biennial of Watercolors, several participating artists teach workshops. Some others, including myself, are scheduled to do demonstrations. I'd like to invite you to one of my five demonstrations next week on July 24 (3 sessions), 25 (1 session in afternoon) and 26 (1 session in afternoon) if you will be in Brioude, "capital of watercolors in France."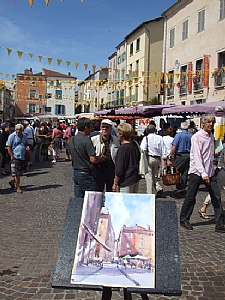 I love painting market scenes. Outdoor demonstration in Brioude


Marché, Brioude, France II

Media: Original watercolor on paper
Image Size: 11.5 x 8.25 in (on 12 x 9 in. paper)
Purchase: Sold