« Market Day in Brioude, France, French Landscape Painting | Main | Market Day, Brioude, France III, French Landscape Painting »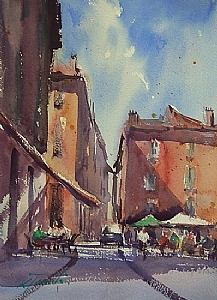 Brioude marché, France II
This painting is another demonstration I did last weekend of the weekly outdoor market in Brioude, France (click here to see the other one). Lively streetscapes such as this are a delight to paint!

During the two-week exhibition at the Brioude Biennial of Watercolors, several participating artists teach workshops. Some others, including myself, are scheduled to do demonstrations. I'd like to invite you to one of my five demonstrations next week on July 24 (3 sessions), 25 (1 session in afternoon) and 26 (1 session in afternoon) if you will be in Brioude, "capital of watercolors in France."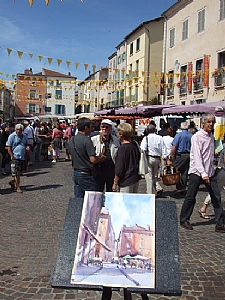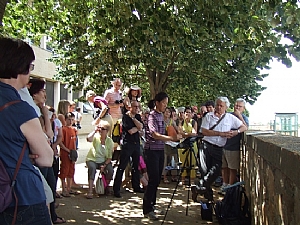 I love painting market scenes. Outdoor demonstration in Brioude


Marché, Brioude, France II

Media: Original watercolor on paper
Image Size: 11.5 x 8.25 in (on 12 x 9 in. paper)
Purchase: Sold
Topics:
Exhibitions
|
French Landscapes
|
Markets
|
Sold Works
---
---
Comments
2 Responses to Market Day, Brioude, France II, French Landscape Painting
liza hirst
via web70 months ago
Mon Dieu, Keiko! It was only today that I realized at last that you ARE actually in France in person! Somehow I thought you were doing your beautiful paintings from Photos but then it slowly entered my head that you were painting one French scene after the other and I had a good look at your blog. Unfortunately I will not be able to come to Brioude but should you have time and interest to visit me you are very welcome! We live near Perigueux, about 3 hours from where you are. Happy painting! Liza
Keiko Tanabe
via web70 months ago
Bonjour, Liza! Thank you for reading my blog and sending me you kind comment. It'd be great to meet with you (I also love the region where you live), but my schedule looks a little tight... I hope it will happen the next time!

* indicates a required field