« More Paintings of Nice, France, French Landscape Painting | Main | Biennale de l'Aquarelle in Brioude, France, July 11-26 »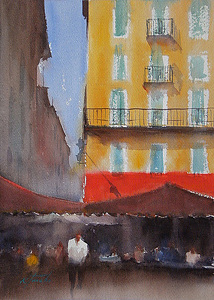 Le Vieux-Nice, France II
Shown here is one of the squares, an open space, so there's plenty of sunshine hitting colorful walls of the buildings. But if you wander into one of the small alleys behind these buildings, there is quite a different scene.

The alleys run like a maze between buildings, with small restaurants and shops lined up right next to each other. These alleys are so narrow that the sun doesn't reach all the way down to the ground most of the time.

This is the Old Town of Nice, France. While it has become a bit touristy, this is a place where we can get a feel of what life in this city used to be like. One of the local snack foods they sell here is called "socca (recipe)," a kind of pancake made from chick-pea flour. Originally made for the working class people, this is something you won't probably find at a posh beachfront hotel restaurant. Maybe not so glamorous, but in the Old Town we can find Nice in a more authentic way.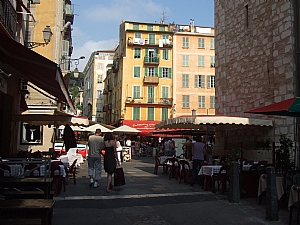 A square in the Old Town of Nice (Le Vieux-Nice)


Le Vieux-Nice, France II

Media: Original watercolor on paper
Image Size: 11.5 x 8.25 in. (on a 12 x 9 in. paper)
Purchase: Sold
Topics:
Cafés & Restaurants
|
French Landscapes
|
Recipes
|
Sold Works
---
---
Comments