« Duomo, Milano, Italy III, Italian Landscape Painting | Main | Chateau Chillon, Switzerland, Swiss Landscape Painting »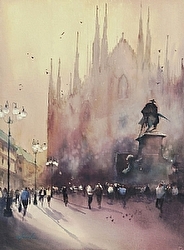 Duomo III (posted yesterday)
This painting was a commission piece (posted yesterday). An owner of a new Italian restaurant on the island of Coronado (in San Diego) asked me last month to do a large piece of the Milan Cathedral (Duomo di Milano). He seemed to be very partial to this massive yet very elegant church as it was obvious from the look in his eyes. Originally from Milan, he's now working as a very successful restauranteur in San Diego and is married to a lovely American lady.

I was excited! When I was in Milan in 2007 and saw the cathedral, I thought, "Some day I am going to paint it." But dreaming about it is one thing; actually doing it is another. Looking at its size and architectually complex design, I was just not sure if I was ready to tackle it. Then this request came. Maybe it is time, I thought.

The process involved digging for some photos I took of the church and its surrounding area, followed by a visit to the restaurant to see the interiors and decor. A soft, warm color and atmosphere inside really helped me decide the direction of this painting. But the challenge was that, while the church is quite wide, my client needed a painting in a vertical format for the wall space where he wanted to hang it. When I went back to show him the finished painting, he said, "I love it." It was a moment of great relief and ultimate joy for me.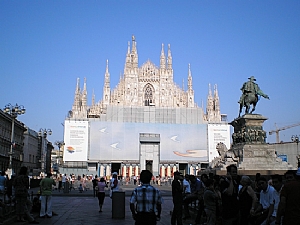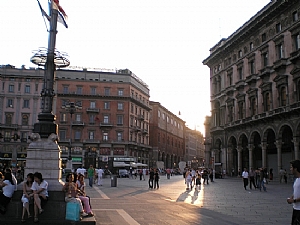 Here are some of my pictures I used for reference (Duomo and its square).


I made a few studies first that I am going to show you today.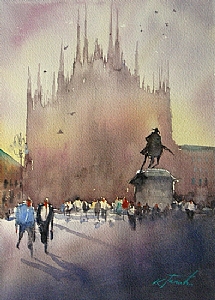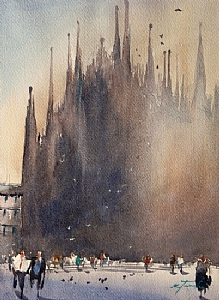 Study of Duomo, Milano I Study of Duomo, Milano II


Study of Duomo, Milano I & II

Media: Original watercolor on paper
Image Size: 11.5 x 8.25 in. (on a 12 x 9 in paper)
Purchase: Sold
Topics:
Commissions
|
How I Paint
|
Italian Landscapes
|
Sold Works
---
---
Comments