« Izumo, Japan I, Japanese Landscape Painting | Main | River Cruise, Kyoto, Japan X, Japanese Landscape Painting »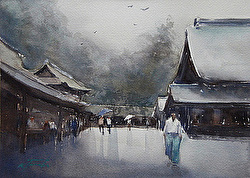 Izumo, Japan III
Okuni of Izumo, the founder of kabuki theatrical art, is believed to have been a miko at Izumo Grand Shrine. A miko is a shrine maiden who plays an assisting role to a shinto priest, but in ancient times, she was more like a shaman or prophet.

When I visited the shrine, the mist veiled the mountains in the background. Suddenly I felt the time moving very slowly and my mind was drifted away to the ancient times.

On June 30, the last day of waterless month, oharae (a purification ritual) will be performed at this shrine. This is an age-old Shinto custom to purge oneself of everyday sins. It is also to pray for good health throughout long hot summer months.


Izumo, Japan III

Click here for a larger image of "Izumo, Japan III" painting.

Media: Original watercolor on paper
Image Size: 11.5 x 8.25 in.
Purchase: Sold
Topics:
Japanese Landscapes
|
Sold Works
---
---
Comments
2 Responses to Izumo, Japan III, Japanese Landscape Painting
Ramesh Jhawar
via web70 months ago
Hi Keiko!
Missed out a lot while I was busy with my show.Took a lot of time to get myself updated.I loved the following paintings very much
Izumo, Japan I
Milano,Italy VI
Milano, Italy VII
San Diego 100 (#64) - Olivenhain
These were terrific!
Regards
Keiko Tanabe
via web70 months ago
Ramesh, thank you for taking time to view my recent paintings. Appreciate your comment very much. How was your show? With your talent, I have no doubt you did well!

* indicates a required field