« Milano, Italy VI, Italian Landscape Painting | Main | Milano, Italy VIII, Italian Landscape Painting »
As shown in my previous "How I Paint" blog posts, my typical painting process consists mainly of two stages: first wash and detail work.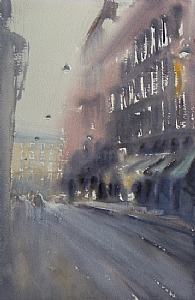 Sometimes I start off with a rather soft wash and later layer subsequent washes to achieve the desired tonal values overall.

At other times, I begin with a bolder approach in that I carefully put in just the right amount of pigments and the right choice of colors in my first wash so the painting almost looks finished from the beginning. The key in this method is to establish the broader scale of tonal values at the initial stage. I took this approach to make today's painting.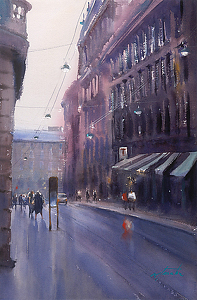 Milano, Italy VII

Media: original watercolor on paper
Image Size: 21 x 14 in.
Purchase: Sold
Topics:
How I Paint
|
Italian Landscapes
|
Sold Works
---
---
Comments