« Procida, Italy I, Italian Landscape Painting | Main | San Diego 100 (#51) - Mission San Luis Rey de Francia, California Landscape Painting »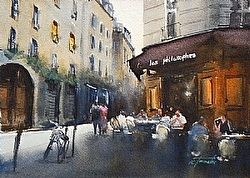 Paris Café XXXIV
This cafe, in the Marais district of Paris, was full, inside and outside. Actually, the entire neighborhood was full of people, mostly young, who seemed to come here to dine and socialize. The vibrant energy in the air told me that this must be one of the hip places in today's Paris.



See how this painting developed: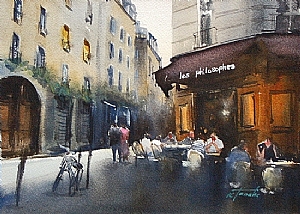 Paris Café XXXIV

Click here for a larger image of "Paris Café XXXIV" painting.

Media: Original watercolor on paper
Image Size: 8.25 x 11.5 in.
Mat/Frame: Yes/No
Mat Size: 14 x 18 in. (color: off-white)
Purchase: Sold
Topics:
Cafés & Restaurants
|
French Landscapes
|
How I Paint
|
Paris Café
|
Paris France
|
Sold Works
---
---
Comments
7 Responses to Paris Café XXXIV, French Landscape Painting
alex
via web72 months ago
Thank you so much for letting us follow your working process. Yesterday I found your website and your works impressed me much and I ran through all of your "how I paint" posts. It is pretty hard to follow as distant teacher, but hopefully I'll make something out of your wanderfull style.