Painting en plein air is a great way to learn how to capture the sense of place and its atmosphere quickly. It is also a great way to take a quick look at life of the people who live there. I don't know about other plein-air painters but to me, personally, similarities or differences in people's lives that I observe and find in a foreign place are quite intriguing.
In China, one thing that I noticed is that more people than in other places I've been to are quite interested in watching me paint. Some even want to take a photo together with me. And many of them are young people. I don't recall such an open display of enthusiasm among the young in other places. I wonder if this means that watercolor is more commonly practiced or better recognized in this country. That I don't know but it is very encouraging that the medium attracts the younger generation. During my painting session by one of the beautiful lakes in Guilin, I had at least a dozen young people who stood by my side to watch.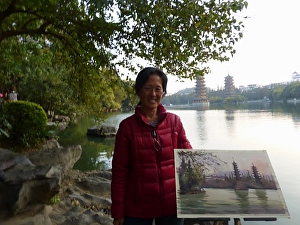 Guilin, China
Guilin, China I
A large digital file available on request.
Media: Original watercolor on paper
Image Size: 13 x 19 inches (23 x 33 cm)
Frame/Mat: No
Purchase: Please send me an email for details.
- Join me on Facebook and follow my blog on NetworkedBlogs.
- Follow me on Google+.
- Visit my gallery at Daily Paintworks.
- Follow me on Twitter
- FASO Artist Websites - Easy, Professional Art Websites for Artists who Sell