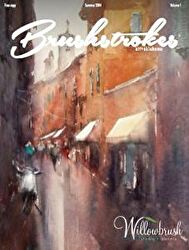 Brushstrokes vol.I
At the start of a new year we reflect over the past year. 2014 was a very exciting and busy year for me with many events and projects to work on: I was in 18 exhibitions, taught over 20 workshops, published a book, and got interviewed for 2 featured articles for art magazines, to name a few. I would like to take a moment to express my sincere appreciation to all who helped me get them done.
Behind each event or project there was usually a number of people working on many levels to bring it to fruition. I couldn't have done any of what I did without their organization and dedication. And, let's not forget a much larger number of people who attended my events, workshops and demos. Without them none of these would have been really meaningful.
I realize that there are also people who supported me from behind-the-scene such as my web-hosting service people and people from my three galleries. Willowbrush Fine Art Gallery, located in Tulsa, Oklahoma, U.S.A., is one of the galleries that currently represent my work. I am delighted that my work was chosen to be on the cover of the first issue of Brushstrokes, Willowbrush Gallery's own magazine.
Last but not least, there are those who follow and cheer for me, and of course on the home front, my family. I cannot thank them all enough because they are the ones who keep me going on a daily basis. Thank you all - I wish everyone a wonderful new year!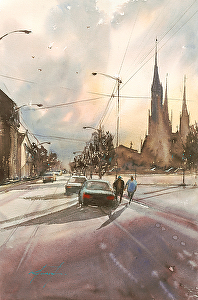 Tulsa, Oklahoma (watercolor, 22"x15")
- Join me on Facebook and follow my blog on NetworkedBlogs.
- Follow me on Google+.
- Follow me on Twitter.
- FASO Artist Websites - Easy, Professional Art Websites for Artists who Sell
Comment on or Share this Article →
---
---
---
---
---
---
---
---
---
---
---
---
---
---
---
---
---
---
---
---
---
---
---
---
---
---
---
---
---
---